1/22/19 A VIRTUAL SITCHIN SCHOOL, with short LESSONS First, a virtual SCHOOL, followed perhaps by physical Schools in 3 Centers. The plan is to offer a series of periodic SHORT LESSONSsummarizing the Basic Foundations of the SITCHIN PARADIGM/Perspective/Worldview. WHY? Because most people do not have time to read his rather dense and detailed books. Folks prefer videos or documentaries in a summary fashion. And now with texting and their phones, short emails might help spread the relevant information. HOWEVER, this endeavor is ONLY to entice you to READ his two Foundational books, as seen on this website under BOOKS and Books BY Stchin. Recommended: Buy ONLY used HARDCOVER books for easier reading and illustrations. There is much information here, so we suggest maybe 1 or 2 LESSONS/day.
LESSON ONE
Past History: When the "gods" alone lived on Earth

This past history is described on the Sumerian and other ancient civilizations such as Bablyonian, Assyrian. Akkadian, Hittite, etc., with tens of thousands of CLAY TABLETS AND SEALS, written in Earth's first written language: the cuneiform pictographs.
Many, many years ago there was a planet passing by our solar system and somehow it got "captured" (gravitational pull) by the planets in our system and took on an elongated elliptical orbit around our sun. No one knows for sure when this occurred but the name of the planet is NIBIRU. The folks living there were called Nefilim or Anunnaki.
It departs from near Earth and heads out to deep space for 1,800 earth years and then turns around and heads back for another 1,800 earth years, thereby giving the people on Nibiru a very long life span since 3600 earth years EQUALS only ONE Nibiruan year. Thus a person who reaches 100 years of age on Nibiru would be 360,000 earth years old which means, for us, "relative" immortality. Hard to believe, no? But all is relative. These folk were called Nefilim or Anunnaki
We do not know how many flesh-and-blood inhabitants/beings –-"gods"-– there were on Nibiru but we do know that they had a ruler: Alalu by name.
We also know from the Mesopotamian clay tablets/seals that their planet had very important rules of succession to determine who was to be the next ruler (more of this later).
At any rate, Anu aspired to become the ruler of Nibiru before his time and challenged Alalu to a wresting match to determine who would be the ruler (their method). Anu won and Alalu was exiled to places unknown. While traveling around our planets (they had spaceships!) he found refuge on Earth and discovered gold here.
(Some claim he also settled for some time on Mars: face on pyramid, anyone?)
Since Nibiru was experiencing difficulty with their atmosphere, they needed gold to make particles in order to seed the atmosphere and thus protect Nibiru from outside rays and from the internal loss of heat generated by their planet's nuclear core. So, Alalu made a bargain: let me return and I will show you where I discovered the needed gold! And the deal was concluded. The KEY word here to remember is GOLD.
Anu's Ruling Family:
The twelve members ("gods") who composed the Great Council were: (these names are all important, as they will appear again and again in many different cultures/civilizations but under different names,
for example: a son of Enki called Gizida on Nibiru was called Ningishzida in Sumerian, Thoth in Egypt, Hemes in Greece, Mercury in Rome, and Quetzalcoatl in Mexico. (possibly Jesus???)
The Ruling Family:
Anu and his wife, Antu
First-born son Enki (Ea) and his wife, Ninki
Second-born son, but legitimate heir, Enlil (God Yahweh of OT) and his wife, Ninlil
Sister of Enki and Enlil: Ninharsag (Ninmah)
Nannar (Sin) and his wife, Ningal
Utu (Shamash)
Inanna (Ishtar)
Ishkur (Adad)
and of course, there were many children and grandchildren (their names will appear in time) of the TWO MAJOR CLANS: Enlil-ites versus Enki-ites: sibling rivalry for power and control. And it is here that the Rules of Succession are all important.
Rules of Succession:
If a son was born of the rightful ruler and his sister or half-sister, then the son was the rightful heir no matter when the son was born. But if a son was born by a concubine, even though the first-born, he was NOT the rightful heir. Anu's half-sister wife Antu bore Anu a son, Enlil,who became the legal heir instead of Enki.
And so this is KEY to understanding our planet's history for even the Pharaohs followed these rules as did many Earthly kings. The maternal bloodline (genetic purity) was of utmost importance. Sibling rivalry for rulership will greatly influence ancient past history even up to who knows when.
And at the core of the many wars on both on Nibiru and on Earth lay an intricate geneaology that determined hierarchy and succession: sexual acts were judged by their purpose and outcome, not love, etc.
We do not yet know whence came the Anunnaki. From another star system, maybe Sirius or Orion or even Draco; or even possibly some type of "natural" evolution?
LESSON TWO
GOLD:
Mentioned before and STILL crucial for understanding Nibiru and its citizens is the subject of GOLD.
Gold was/is necessary for the survival of their planet, to find it and then ship it back home
determined almost everything they did on Earth.
So, about 445,000 years ago. led by Enki, the Anunnaki ( about 50) land on Earth, establish Eridu –Earth Station 1–for extracting gold from the waters of the Persian Gulf.
Then 430,000 years ago, Earth's climate mellows. More Anunnaki (in batches of 50) arrive on Earth, among them Enki's half-sister Ninharsag, Chief Medical Officer.
416.000 years ago gold production in the Persian Gulf falters. Anu, the Ruler, arrives on Earth with Enlil, the heir apparent. It is decided to obtain the vital gold by mining it in southern Africa. Drawing lots, Enlil (Yahweh, God of Old Testament) wins command of Earth Mission; Enki is relegated to Africa. On departing Earth, Anu is challenged by Alalu's grandson. (more of this later). BUT you should know that many gold mines that are over 200,000 years old, and sometimes 2 miles deep, have been found in southern Africa. See Michael Tellinger, African Temples of the Anunnaki.
400,000 years ago SEVEN functional SETTLEMENTS in southern Mesopotamia include:
a Spaceport (Sippar)
Mission Control Center (Nippur)
a metallurgical Center (Badtibira)
and, a Medical Center (Shuruppak)
The ores arrive by ships from Africa via the Nile River; the refined metal is sent aloft to orbiters manned by Igigi, then transferred to spaceships arriving periodically from Nibiru.
As Nibiru comes back to Earth, spaceships can depart from Nibiru heading for the orbiting stations and even Earth while Nibiru is still quite far out from Earth (although we are not sure what this crucial point is).
Of interest at this time is how did the Anunnaki know where to land their spaceships. Suitable terrain, guidance from Earth, and perfect coordination with the home planet were required for successful arrivals, landings, takeoffs, and departures from Earth.
LESSON THREE
GOLD MINERS REVOLT/CREATION OF HOMO SAPIENS
380,000 years ago, An Aside: Gaining the support of the Igigi (those in the orbiting space stations), Alalu's (remember him?) grandson, Kumarbi, attempts to seize mastery over Earth. So a war ensued: The Enlilites under Teshub, Enlil's youngest son, aka., Ishkur/Adad vs. Kumarbi's forces star in the one of the Wars of the OLDEN GODS. Enlilites win. Plus, another war between Enlil's other son, Ninurta vs. Zu. Enlilites win again.
300,000 years ago while all these events were happening the poor, exhausted Anunnaki astronauts who were working in the South African gold mines could take it no longer, and after 144,000 Earth-years, both pan and gold mining,
they decided to REVOLT, as conditions grew worse and worse.
BIG Problem! Nibiru NEEDED gold and needed workers to save their planet. What to do?
Enter Enki and Chief Medical Officer, Ninharsag to present a solution: create a "Primitive Worker.
This they did by way of genetic manipulation of Apewoman and these newly created HOMO SAPIENS take over the hard and difficult manual chores of the Anunnaki. Enlil raids the mines, brings Primitive Workers to the Edin in Mesopotamia.
This subject if one of the most crucial points in the history of mankind.
For it centers around the famous debates between the Religious Fundamentalists (Old Testament Genesis) vs. the Evolutionists (Darwinists). Please read the 60 pages of Genesis: A MUST!!
Sitchin presents a THIRD possible hypothesis. That is, INTERVENTIONIST.
From the clay tablets/seals of ancient civilizations we learn that Enki-Ninharsag took out the eggs of the Apewoman and mixed it (genetic engineering) with the life essence (genes) of a male Anunnaki "god," and then after implanting it in a female Anunnaki for 9 months, voila, the first Homo Sapiens was created.
Some detail here: The first blue-print Earth-human, ADAMU, marked the first successful leap in evolution (the HOMO SAPIENS).
The second leap in evolution occurred when Ninharsag (aka. Ninmah) improved the genome of Adamu to create the genome of the first Earth-woman: TIAMAT. (Adamu and Tiamat were the Adam and Eve who resided in the garden of Eden).
A third leap in evolution took place when Enki's son, Ningishzida (aka. Hermes) worked on Adamu's and Tiamat's DNAs (two living organisms). He used Ninmah's and Enki's respective DNA, extracted from their rib marrows.
The fourth leap in evolution occurred when Enki had sex with two female earthlings. One bore him a son and the other a daughter, and the half-sister married the half-brother: they were ADAPA and TITI. Afterward, the "generation" of Adapa and Titi will populate the Earth.
A fifth leap in evolution is achieved with Ziusudra (the biblical Noah). Ziusudra is the Perfected Man, which concluded the Great Work, alchemical in essence, that Ninmah and Enki had relentlessly pursued from the birth of ADAMU (about 300,000 years ago) up to the birth of Ziusudra (aka. Noah) in 54,000 B.C. : HOMO SAPIENS SAPIENS!!! Took a long time with genetic engineering, no?
The story is quite complex because after all the above. 14 Anunnaki "goddesses" (Ninharsag's female assistants) were also carriers of seven male and seven female CLONES of the first "blueprint." And so on. However, these are Homo Sapiens, NOT Homo Sapiens Sapiens Obviously this procedure was quite time consuming and hard on the female Anunnaki astronauts and so the first Homo Sapiens needed to be upgraded to produce their own kind. Not sure of this exact moment but it did eventually take place.
To fully appreciate these events one MUST read chp 12, The Creation of Man in The 12th Planet by Sitchin, as well as pages 104-108 in The Wars of Gods and Men. Then, even more in-depth, in the DNA of the Gods: The Anunnaki Creation of Eve and the Alien Battle for Humanity, by Chris H. Hardy.
It's very hard summarizing much of this material so I apologize. But, at least, it's a beginning of a very rough OVERVIEW.
LESSON FOUR
Between 300,000 and 13,000 years ago
Given the ability to procreate, Homo Sapiens begins to multiply.
Since very little is mentioned in Sitchin about where all the Anunnaki and their Homo Sapiens went ( especially the FarEast, such as
Cambodia, China, Japan, and even to some extent India), I feel it my duty to try
to unearth as much as is possible with recent discoveries of ancient civilizations.
See my frequent BLOGS on the home page for some of this.
Meanwhile, enjoy the following for needed CONTEXT in our research endeavor.
10 Oldest Civilizations:
Incas: 1438 A.D. -1532 A.D. (Bolivia, Peru, Chile)
Aztecs: 1345 A.D.-1521 A.D. (Mexico)
Roman 550 B.C.-465 B.C.
Persian 550 B.C.-465 B.C. (Iran)
Greek 2700 B.C.-1500 B.C.
Chinese 1600 B.C.-1046 B.C. (Yellow River/Yangtze Region)
Mayan 2600 B.C.-900 A.D. around Yucatan)
Egyptian 3100 B.C.-2686 B.C.
Indus 3300 B.C.-1900 B.C. (around Indus River)
Mesopotamian 3500 B.C.-500 B.C. (Iraq, Syria, Turkey)
Ken: I wonder why there is no listing of the HEBREW civilizati0n?
After all, Abraham in 2048 B.C. "became a Semite," and the Hebrew calendar goes back
to 3760 B.C., with Moses and the Exodus taking place in 1433 B.C?, with much more history.
200,000 years ago Life on Earth regresses during a new GLACIAL period.
100,000 years ago the climate warms again. And MOST importantly, the Anunnaki, to Enlil's (Yahweh, God of the Old Testament) growing annoyance, MARRY THE DAUGHTERS OF MAN, thus diluting the purity of the Anunnaki bloodlines.
75,000 years ago A NEW ICE AGE BEGINS. REGRESSIVE TYPES OF Man roam all over the Earth.
Cro-Magnon man survives.
54,000 ZIUSUDRA (Noah) is born. See above in Lesson THREE.
49,000 years ago Enki and Ninharsag ELEVATE HUMANS of Anunnaki parentage to RULE in Shuruppak.
ENLIL (aka Yahweh, God of the Old Testament)) IS ENRAGED!!! and plots the demise of mankind.
13,000 years ago realizing that the passage of Nibiru in Earth's proximity will trigger an immense TIDAL WAVE,
Enlil (aka Yahweh) makes the Anunnaki SWEAR to keep the impending calamity a secret from Mankind, so as to
FINALLY wipe them off the face of the Earth. Quite a "GOD." He had tried many times before with various
approaches, creating diseases, draughts, pestilence, etc.
LESSON FIVE
The Famous Deluge and other floods
Today while driving in hard to-see-heavy rain, I couldn't but help to think about THE FLOOD. Genesis 7. Noah's Ark and the animals, etc.
Yahweh (God of the Old Testament) says: "For in seven days' time I mean to make it rain on the earth for forty days and nights, and I will rid the earth of every living thing that I made," because of their wickedness. Great God!
11,000 years ago Enki breaks the oath and instructs Ziusudra/Noah to build a submersible ship. The Deluge sweeps over the Earth; the Anunnaki witness the total destruction from their orbiting spacecraft. The "gods" weep for mankind and Enlil finally sees the need for workers and thus grants the remnants of Mankind implements and seeds; agriculture begins in the highlands. Enki domesticates animals.
(By the way, Noah was Ziusudra in Sumerian and Utnapishtim in Akkadian). P.S. It wasn't an ark, it was a submersible "boat," aka, "submarine-like," and the "SEED of all living things," that is, the genes that were placed on the "boat,' not ALL the animals, 2 by 2!, etc.
But, a la Sitchin, it was when the sons of the gods began to be sexually involved with the Earthings (decreasing genetic purity) that the Deity said, "Enough!" (See pages 335-363 in The 12th Planet; and, in Atra-Hasis: The Babylonian Story of the Flood).The entire ordeal lasted a year and ten days. Pertinent here are the Twenty-ninth, the 77th and 104th Psalms.
Sitchin focuses on Earth's climatic changes and the abrupt collapse of the ice age some 13,000 years ago. Sitchin's conclusion: the Deluge was the result of the slippage of the Antarctic ice sheets causing the waters of BILLIONS OF TONS of ice, to create an immense tidal wave, a 1000 foot tsunami which spread around the globe. It seems that the instability of the Antarctic ice sheet was affected by the passing of Nibiru and thus plunged the water of the ice sheets into the oceans causing many ancient civilizations to be buried under TONS of mud! and the water level to rise about 400 feet!
10,500 years ago the descendants of Noah are allotted three regions. Ninurta, Enlil's foremost son, dams the mountains and drains
the rivers to make Mesopotamia habitable; Enki reclaims the Nile Valley. The Sinai peninsula is retained by the Anunnaki for a post-Diluvial spaceport; a control center is established on Mount Moriah (the future Jerusalem).
Nefilim grant: 1)seeds vital for crops from Nibiru; 2)domesticated wild mountainous grain/seed strains;
3) clay and metal techniques taught. Rebuild cities upon the old city locations.
No wonder marine archaeologists are finding a multitude of "lost" cities. Myths become realities and "realities" become myths! Interesting times.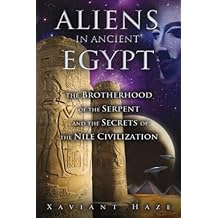 by Xaviant Haze. Excellent updated material
LESSON SIX
History of EGYPT: History of the Pharaohs
Recall that the Mesopotamian sources were clay tablets and seals written in the cuneiform language. Well, NOW
with Egypt we find HIEROGLYPHS etched in STONE. For an interesting BLOG see 12/12/18 on Home Page: Cuneiform DIGITAL Library arriving soon! Just a few % of the possible tablets/seals have been discovered and categorized and interpreted!!
978o Recall that Enki of Sumerian times became Ptah in Egypt while his son Marduk became Ra.
Since there was a never-ending struggle for control over Earth and its space facilities, as well as numerous shenanigans of the Great Anunnaki, the FIRST PYRAMID WAR was to unfold. At this time the Spaceport in the Sinai and the GIZA PYRAMIDS were built: circa 10,000 B.C.
Enki and Ninsharsag bear eight young gods (Shu and Tefnut, Geb and Nut, Seth and Nephts, and Asar=Osiris and Ast=Isis) and assign them tasks, spouses, temples, and territories in Egypt. Seth was allotted Upper Egypt while Osiris, his brother, was given Lower Egypt.
Seth covets Osiris' territory, especially the Great Pyramid and its companions at Giza, the landing space for their spaceships.
9330. Seth seizes and dismembers Osiris, and assumes sole rule over the Nile Valley. Long story here about Osiris being dismembered and his wife, Isis, seeking all his parts in oder to assist in his RESURRECTION. 8970. Horus, Osiris and Isis's son, avenges his father Osiris by launching the First Pyramid War. Seth escapes to Asia, seizes the Sinai peninsula and Canaan. Seth's trespass into Canaan meant that all the space-related sites–Giza, the Sinai peninsula, Jerusalem–came under control of the Enki gods which the Enlilites could not accept. 8670 Opposed to the resulting control of all the space facilities by Enki's descendants, the Enlilites launch the Second Pyramid War. Ninurta, Enlil's son, versus Marduk, Enki's son. Ninurta was victorius and empties the Great Pyramid of its equipment. Much greater detail on these two wars can be found in Chp. 8 THE PYRAMID WARS, pages 153-172, in The Wars of God and Men=utterly fascinating! Today the visitor to the Great Pyramid finds its passages and chambers bare and empty, its complex inner construction apparently purposeless, its niches and nooks meaningless. BUT HOW DID IT LOOK IN 8670 B.C. (Pages 167-172). Recently there I could see it as it was!! So, read about it all BEFORE going, please. Meanwhile, Ninharsag, half-sister of Enki and Enlil, convenes a peace conference. The division of Earth is reaffinned. Rule over Egypt transferred from the Ra/Marduk dynasty to that of Thoth, who was another son of Enki, previously known as Ningishzida., and later Herms in Greece. Heliopolis built as a substitute Beacon City.
8500 The Anunnaki establish outposts at the gateway to the space facilities; Jericho is one of them. 7400 . As the era of peace continues, the Anunnaki grant Mankind new advances; the Neolithic period begins. Demigods (Anunnaki-Earthling Hybrids) rule over Egypt.
LESSON SEVEN
4000 Kalasaya with gold/tin mines in Puma-Punku/ Tiahuanacu Peru
3800 Urban civilization begins in Sumer as the Anunnaki reestablish there the Olden Cities, beginning with Eridu and Nippur. Anu comes to Earth for a pageantful visit. A new city, Uruk (Ercch), is built in his honor; he makes its temple the abode of his beloved granddaughter Inanna/ Ishtar.
3720 Start of the Jewish Calendar 3700 Nippurian Calendar starts
3760 . Mankind granted kingship. Kish is first capital under the aegis of Ninurta. The calendar begun at Nippur. Civilization blossoms out in Sumer (the First Region).
3450. Primacy in Sumer transferred to Nannar/Sin. Marduk proclaims Babylon "Gateway of the Gods." The " Tower of Babel" incident. The Anunnaki confuse Mankind's languages. His coup frustrated, Marduk/Ra returns to Egypt, deposes Thoth, seizes his younger brother Dumuzi, who had betrothed Inanna. Dumuzi accidentally killed: Marduk imprisoned alive in the Great Pymmid. Freed through an emergency shaft, he goes into exile.
3113 Mayan Long Count Calendar starts. Thoth to Mesoamerica
3100 350 years of chaos end with installation of first Egyptian Pharaoh in Memphis. Civilization comes to the Second Region.
2900 Kingship in Sumer transferred to Erech. Inanna given dominion over the Third Region: the Indus Valley civilization begins. 2650 Sumer's royal capital shifts about. Kingship deteriorates. Enlil (Yahweh) loses patience with the unruly human multitudes.
2600 Thoth to Guatemala and Yucatan 2700-1500 B.C. The GREEK civilization begins. The following info helps somewhat but very little I find on Greece's PREHISTORY Ancient Greece – Wikipediahttps://en.wikipedia.org/wiki/Ancient_Greece
Ancient Greece (Greek: Ἑλλάς, translit. Hellás) was a civilization belonging to a period of Greek history from the Greek Dark Ages of the 12th–9th centuries BC to the end of antiquity (c. AD 600). Immediately following this period was the beginning of the Early Middle Ages and the Byzantine era. Roughly three centuries after the Late Bronze Age collapse of Mycenaean Greece, Greek …
2600- 900 A.D. The MAYAN Civilization begins. See below LESSON 11.
What follows is a VERY BRIEF SUMMARY of all that transpires during the indicated years. To really RELISH this history one must read Sitchin in-depth. Sorry, folks, no other way. However, it is here that INANNA starts showing her POWER. QUITE A WOMAN!!! 2371 Inanna falls in love with Sharru-Kin (Sargon). He establishes new capital city, Agade (Akkad). Akkadian empire launched. 2316 Aiming to rule the Four Regions, Sargon removes sacred soil from Babylon. The Marduk-Inanna conflict flares up again. It ends when Nergal, Marduk's brother, journeys from south Africa to Babylon and persuades Marduk to leave Mesopotamia. 2291 Naram-Sin ascends the throne of Akkad. Directed by the warlike Inanna, he penetrates the Sinai peninsula, invades Egypt. 2255 Inanna usurps the power in Mesopotamia: Naram-Sin defiles Nippur. The Great Anunnaki obliterate Agade. Inanna escapes. Sumer and Akkad occupied by foreign troops loyal to Enlil and Ninurta. 2220 Sumerian civilization rises to new heights under enlightened rulers of Lagash. Thoth helps its king Gudea build a ziggurat-temple for Ninurta. 2193 Terah, Abraham's father, born in Nippur into a priestly-royal family. 2180 Egypt divided; followers of Ra/Marduk retain the south; Pharaohs opposed to him gain the throne of lower Egypt. 2130 As Enlil and Ninurta are increasingly away, central authority also deteriorates in Mesopotamia. Inanna's attempt to regain the kingship for Erech does not last.
LESSON NINE
2123 Abraham born in Nippur. 2113 Enlil entrusts the Lands of Shem to Nannar; Ur declared capital of new empire. Ur-Nammu ascends throne, is named Protector of Nippur. A Nippurian priest- Terah, Abraham's father-comes to Ur to liaison with its royal court. 2096 Ur-Nammu dies in battle. The people consider his untimely death a betrayal by Anu and Enlil. Terah departs with his family for Harran. 2095 Shulgi ascends the throne of Ur, strengthens imperial ties. As empire thrives, Shulgi falls under charms of Inanna, becomes her lover. Grants Larsa to Elamites in exchange for serving as his Foreign Legion. 2080 Theban princes loyal to Ra/Marduk press northward under Mentuhotep I. Nabu, Marduk's son, gains adherents for his father in Western Asia. 2055 On Nannar's orders, Shulgi sends Elamite troops to suppress unrest in Canaanite cities. Elamites reach the gateway to the Sinai peninsula and its Spaceport. 2048 Shulgi dies. Marduk moves to the Land of the Hittites. Abraham ordered to southern Canaan with an elite corps of cavalrymen.
There Were Giants Upon the Earth: Gods, Demigods, and Human Ancestry:
The Evidence of Alien DNA.
LESSON TEN
2047 Amar-Sin (the biblical Amraphel) becomes king of Ur. Abraham goes to Egypt, stays five years, then returns with more troops. 2041 Guided by Inanna, Amar-Sin forms a coalition of Kings of the East, launches military expedition to Canaan and the Sinai. Its leader is the Elamite Khedorla 'omer. Abraham blocks the advance at the gateway to the Spaceport. 2029 Ibbi-Sin replaces Shu-Sin. The western provinces tilt increasingly to Marduk. 2024 Leading his followers, Marduk marches on Sumer, enthrones himself in Babylon. Fighting spreads to central Mesopotamia. Nippur's Holy of Holies is defiled. Enlil demands punishment for Marduk and Nabu; Enki opposes, but his son Nergal sides with Enlil. As Nabu marshals his Canaanite followers to capture the Spaceport, the Great Anunnaki APPROVE THE USE OF NUCLEAR WEAPONS. Nergal and Ninurta destroy the Spaceport and the errant Canaanite cities. 2023 The winds carry the radioactive cloud to Sumer. People die a terrible death, animals perish, the water is poisoned, the soil becomes barren. Sumer and its great civilization lie prostrate. Its legacy passes to Abraham's seed as he begets-at age 100- a legitimate heir: Isaac. More to come on this topic. And the rest is HISTORY. However, Much more can be found from Sitchin's 14 books and Books About Sitchin also. And I will attempt to continue Sitchin's Time Chart right up to modern times, beginning in LESSON Thirteen
Wars of the Anunnaki: Nuclear Self-Destruction in Ancient Sumer
Jul 25, 2016, by Chris H. Hardy Ph.D.
Ken's COMMENTS: Chris' book will open your eyes to unimaginable events in Mesopotamia. Great research, great details.
Wonderful interpretations. RATHER than BLOODLINES, Hardy proposes a WISDOMLINE by Enki and his son, Ningishzidda
(who becomes Thoth in Egypt and Hermes in Greece!). Direct transmission of SECRET KNOWLEDGE, a la the Hermetic principles
and the Gnostics. See BLOG 1/6/19 Hermetic Principles on HomePage.
LESSON ELEVEN
SO, what happened to the Anunnaki after this DISASTER? Many left to go back to Nibiru and some remained behind. Much more info needs to be added here. But check out The GOD Table below. Lost Realms, by Sitchin, spells out what happened when they went to Mexico, Peru and Mayaland, searching for more GOLD and other metals.
LESSON TWELVE
Why is Ken so FASCINATED with Sitchin?
Thinking it over, especially after reading Sitchin's 14 books, plus many other books by others about him and his research, my answer is multifold.
Assuming the Sitchin PARADIGM is correct, then:
1. The BASIS (foundation) for the major Western Religions based on the Old Testament, especially the Book of Genesis, is totally INCORRECT and easily deconstructed. What the substitute is depends on you! Deprogramming is necessary.
2. The true history of planet Earth, its origins and the Creation of Man, is totally INCORRECT.
What makes sense to you is now possible. Take your choice: Creationism vs Darwinism vs interventionist, a combination, or other. How Earth came into being. From Homo Erectus to Homo Sapiens to Homo Sapiens Sapiens.
3. Another planet exists in our solar system, called Nibiru, and it is these flesh-and-blood beings, called Anunnaki "gods," who have built structures like the Egyptian Great Pyramid and many others around the world, as well as Machu Picchu, the Karnak Complex, the Sun and Moon pyramids in Mexico and many others in Mayaland (Yucatan). Answers the WHO, HOW, WHY and WHEN of these structures.
4. Why mankind is so greedy, violent and war-prone is finally known: the model is that of the sibling rivalry of the Anunnaki brothers Enlil and Enki and their respective clans for power and control of Earth. (Rules of Succession). Written in the first language cuneiform pictographs on hundreds of THOUSANDS of Mesopotamian clay tablets/seals and Egyptian temple and tomb hieroglyphs, etched in STONE!
5. The explanation of HOW and WHY the FLOOD (Deluge) took place now appears quite different and more sensible. Slippage of the Antartic ice sheets anyone?
6. How the ancient Sumerian civilization was wiped out OVERNIGHT is now known. Incredibly by a radioactive cloud from Nuclear weapons that were deployed to punish the "sinful" Canaanite cities in 2024 B.C.
7. Why GOLD is so important takes on a new meaning both in ancient times (atmospheric solutions) right up to the present day when Central banks are buying it up like it's going out of style. The Great Game, plus the return of the Anunnaki?
8. How ancient civilizations sprang up "suddenly," with sudden domestication of animals, granted seeds for farming, and beginnings of Kingship.
9. How India was feminine-oriented, with many gods and goddesses, as compared with the male domination of the West. Inanna was granted the Indus Valley Region! A matriarchal society.
The Seven Mother Goddesses (Matrikas) Flanked by Shiva-Virabhadra and Ganesha
10. Having recently journeyed to Egypt, I am now totally convinced beyond any doubt that it was the Anunnaki "gods" who comprised the Golden Age "Lost Civilization." No way in hell could Earthlings build such magnificent pyramids, temples, and olden cities.
11. It's one thing to travel and see such wonders as the Great Pyramid or Machu Picchu, etc. BUT TO BE at such places
AND KNOW the history, the mystery, the major questions surrounding them, makes the JOURNEY so much more alive, real, and satisfying.
The King Who Refused to Die: The Anunnaki and the Search for Immortality (2013).
Immortality anyone? Check it out, please.
LESSON THIRTEEN : Time Chart Continued
2048 Abraham becomes a Semite at 75 years of age.
2000 Grant AFRICAN FOLLOWERS (from Ghana) of Thoth/Quetsalcoatl civilization in Mesoamerica (OLMECS)
1600 B.C. Chinese Civilization begins
History of China – Wikipediahttps://en.wikipedia.org/wiki/History_of_China
The earliest known written records of the history of China date from as early as 1250 BC, from the Shang dynasty (c. 1600–1046 BC), during the king Wu Ding's reign, who was recorded as the twenty-first Shang king by the written records of Shang dynasty unearthed. Ancient historical texts such as the Records of the Grand Historian (c. 100 BC) and the Bamboo Annals (296 BC) describe a Xia …
However, if you dig further and click onto PREHISTORY you will find fascinating information and theories. Were the Anunnaki involved in the beginnings of ANCIENT CHINA. Many new archaeological discoveries are appearing almost monthly.
1513 Moses born
1450 MajorEarthquake in PERU. Destroys many megalithic structures.
1433 Exodus from Egypt to Canaan.
At Chavin, Peru, followers of Thoth (Quetzalcoatl) and Adad (Vivacocha) meet up as fellow gold miners.
1400 DAY OF DARKNESS:; and, The Day the Sun Stood Still: Earth's rotation slowed down.
THEN, from 1433 to Napoleon, and more.
Dorian invasion of Greece
King David in Jerusalem
Fall of Nineveh
Cyrus captures Babylon
Buddha rises in India
Roman Empire founded: 550 B.C.-465 B.C.
Persian Empire founded: 550 B.C.-465 B.C. (Iran)
Greek Classical age begins
Alexander defeats Darius
Great Wall begun in China
Hannibal challenges Rome
Jesus of Nazareth
Jerusalem falls to Roman legions
Maya Civilization in CentralAmerica
Sack of Rome
Muhammed proclaims Islam
Charlemagne forms Holy Roman Empire
Norman conquest of England
Magna Carta granted by King John
Aztec Civilization in Mexico: (1345 A.D.-1521)
Inca Empire arises in Bolivia-Peru-Chile): (1438 A.D.-1532
Byzantine empire falls to Turks
Columbus "discovers" America
American Revolution
Napoleon conquers Europe
The following authors are very aware of EXTRATERRESTRIALS:
For a GREAT FLOW Chart of all this history from Nibiru, with Adam and Eve to present times,
see Genesis of the Grail Kings, by Laurence Gardner (Appendices). Which is then completed with his Bloodline of
the Holy Grail.
Additionally. Willam Bramley, in Gods of Eden, adds even more info (the CUSTODIAL SOCIETY), as well as Jim Marrs, Rule by Secrecy; and, Michael Tellinger's two books: Slave Species of the Gods; and African Temples of the Anunnaki (all about SouthAfrica and Zimbabwe.
The Creature from Jekyll Island: A Second Look at the Federal Reserve (2010)
LESSON FOURTEEN The Anunnaki: Did many stay here on Earth; and, when will they return? 1/3/19 Departure of the Nefilim/Anunnaki?? Some have inquired as to WHEN the Nefilim/Anunnaki left Earth in the past. Good question. After finishing The Lost Realms, I summarized Nibiru's passages by Earth: 11,000 B.C., 7,400 B.C., 3800 B.C., and 200 B.C. (their cycle is 3600 years), more or less. And each time something BIG happened! (Meanwhile the Nuclear Holocaust that wiped out the Sumerian Civilization occurred in 2024 B.C.)
Then there is the question of the time it takes to travel in their spaceships to catch Nibiru when it was headed back into deep space. NOT yet known, whether arriving or departing, from mostly likely the orbiting space stations???? And if demoralized following the Holocaust, would they want to leave asap?
I am guessing therefore, that between 600 B.C. (???) and 400 A.D.(??), the major "gods" departed, while possibly some of the Enlil and Enki clans remained behind, especially those who married female/male earthlings, who became Kings and Pharaohs. More on this to come.
RETURN OF the ANUNNAKI
When will they return? But wait! Maybe they are still here?
The Gods Never Left Us: The Long Awaited Sequel to the Worldwide Best-seller Chariots of the Gods (2017).